View and photograph some of the World's largest Rocky Mountain Bighorn Sheep on Wild Horse Island, Flathead Lake, Montana
Read More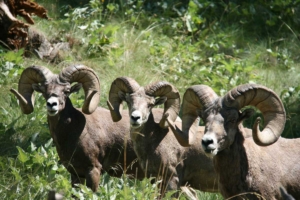 View and photograph some of the World's largest Rocky Mountain Bighorn Sheep at Wild Horse Island. Wild Horse Island (2,164 acres) is located in Flathead Lake (126,000 acres), the largest freshwater lake in Montana. It is only accessible by boat. The current world record Rocky Mountain bighorn sheep came from the island in 2018, scoring 216 3/8 BC. A replica is on display at the National Bighorn Center. Bighorns are often taken from the island and relocated to other suitable habitats.
Two people (additional folks may be possible) will be taken by boat to Wild Horse Island by Jim Weatherly, past President of the Montana Wild Sheep Foundation. You will be dropped off for a day of viewing and photographing these amazing Rocky Mountain bighorns and other wildlife on the island. Opportunities for viewing/photographing bighorns will likely be less than 100 yards.
Lodging – the winner will be awarded $500 cash for lodging compensation. You will have to arrange your own lodging/camping. Lodging fills quickly – Book Early!  We encourage you to spend additional time enjoying the wildlife and scenery in the Flathead Lake area.
Trip Dates – you will need to book your trip between June 15 and October 1, 2022.  Trip coordinator – Steve Kilpatrick  (307) 413-7249.
Read More
Charles Daly Gun
Charles Daly 12 gauge Semi Automatic CA612 from Trailhead Guns of Rock Springs
Donated by Sam Hightower of Trailhead Guns in Rock Springs.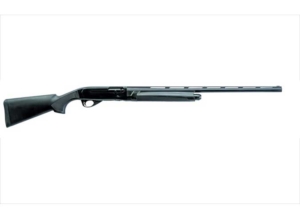 Read More
Bighorn Lamp featuring horn casts by Josh Taylor of Wyo Backcountry Décor
Wyo Backcountry Décor is an original family owned business that handcrafts custom lighting and replicas.
Donated by Jenny & Josh Taylor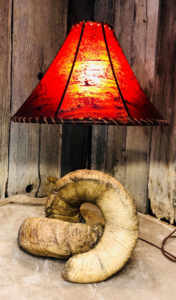 Personal Patch Knife created by artist Tom Lucas and Bear Paradox Compound Bow
Read More
Personal Patch Knife created by artist Tom Lucas
In the early 1800's, mountain men carried both a large "Bowie type" knife and a small personal knife. The small knife was referred to as a patch knife or neck knife. This personal knife was used for everything from cutting a patch of cloth to seat a bullet in a man's Hawken rifle (hence patch knife) and also used for making supper. It was worn around the neck or attached to the shoulder therefore easy to reach.
Tom Lucas, master craftsman and award-winning artist, recreated historically authentic replica knife with beaded sheath. The knife blade is 3.75 inches long and ½ inch wide, made from sharp Solingen German steel. The handle is 3.25 inches long.  A copper band joins the blade and handle.  The Bighorn Sheep horn handle features a carved hawk's head.
The knife sheath is a beaded Shoshone design featuring blue, red and white beads with beaded tassels.  The knife and sheath are made to be worn around the neck and the sheath has a 15-inch buckskin leather strap. This is a true Tom Lucas masterpiece, authentic design and precision craftsmanship.
Donated by Artist Tom Lucas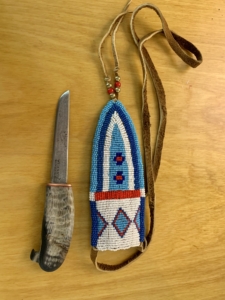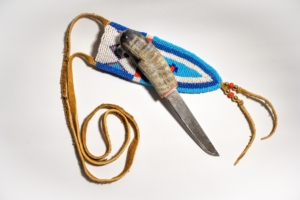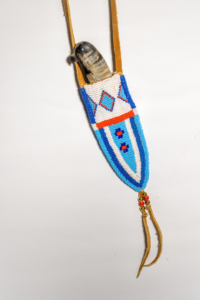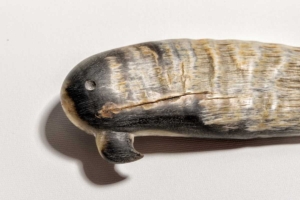 Bear Paradox Compound Bow
This Compound Bow has a stabilizer and quiver with a personalized design and fit with set up help from Wind River Outdoor Company in Lander, WY.
Donated by Sara Domek and Nick Dobric

Donations for
the Big 4 Raffle are tax-deductible.
Please complete this form
to receive proper acknowledgment.