National Bighorn Sheep Center
2019 Bighorn Bash is Saturday, November 2nd DOORS OPEN AT 5:30pm
Dinner tickets are sold out and online dinner ticket sales have been closed.
One of the best parties in town is right around the corner, with all proceeds benefiting the National Bighorn Sheep Center, our Education Program and Bighorn Sheep. This year, this special event includes live and silent auctions, games, fine dining by Connie Wood of Connie's Cookin' & Catering and lots of fun! It will take place at the Headwaters Art and Conference Center here in Dubois, WY. Dinner tickets are sold out. We have started a waitlist so please call us if you want to be added to the waitlist at 307-455-3429.
You can still purchase Big Four or Tom Lucas Drum raffle tickets ONLINE . You can also call us at 307-455-3429 or email and we'll get you all set up with dinner tickets or "Big Four" Raffle tickets. You do not have to be present to win a Big Four or Tom Lucas Drum Raffle prizes, and our generous Big Four Donors (see below) have contributed some amazing prizes for this year's raffle. You can support the Center and have a shot at one of these great prizes, so be sure to buy your raffle tickets today.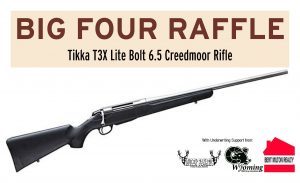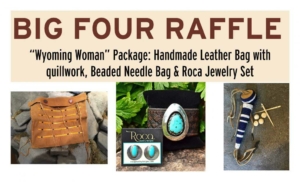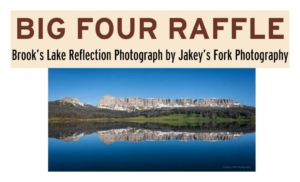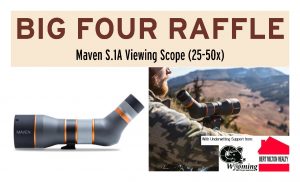 These incredible contributors to this year's Big Four Raffle deserve special Thanks:
Native American Drum by Renowned Artist Tom Lucas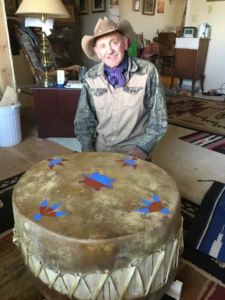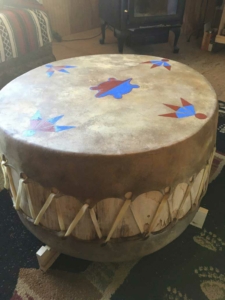 Raffle: $30/ticket. Only 200 tickets will be sold!
Authentic, hand made and painted drum made from cottonwood from the CM Ranch, approximately 30" wide. The drum can be played, put on a stand for display or used as a coffee table. Purchase your raffle tickets by calling 307-455-3429 or visit the Center. Winning raffle ticket will be drawn at the Bighorn Bash—but you need not be present to win! The winner is responsible for pick up or shipping (including crating) of the drum.
*NOTE: The above  photos were taken last week with a nearly-completed drum. Check out this short video of Tom working on the drum: IMG_4212
On behalf of Bighorn Sheep, our Board of Directors and Staff, my sincerest THANKS for your support,
Sara Domek
Executive Director